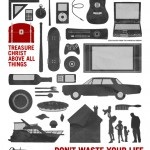 As we saw in the first post, we have been sent on mission. Now, I did neglect to go back and back to THE Mission, which is to glorify God – to radiate and reflect His glory. That is the Big Picture. This has also been born into an organism – not an organization – called the Church – but making followers of the LORD predates the Church, only now the disciple-making has taken a very personal fulfillment in God, the Son. We are to Glorify God and do what He has said to do, which is also glorifying God.
Having said that, we might ask "Why should we be a disciple of Christ?" Is this just a modern movement? Is it biblical?
Well, to get right (back) to the point, we do it because we were told to, both in and in the echo of Jesus' call to His disciples, when He said, "Follow Me." That call still echoes today and will continue to echo until He returns. We are Christ's disciples because the God of the universe has told us to be.
Also, implied in the "Why?" question, is "What's in it for me?"
Paul answers this by way of the Spirit in . In this passage he not only counts his pre-Christ accolades as loss for Christ, but "all things" compared to knowing Him and the power of His resurrection and the fellowship of His sufferings. In this, Paul says that he stilled pressed on toward the prize, which in turn is from God in Christ Jesus AND IS God, in Christ Jesus.
What we get, is the LORD.
And this is vastly important, because He is life and specifically, "our life." (Colossins 3:4) He is our purpose, and we press on for Him, and the love that He bestows upon us to bring us to Him, he calls us to pour over on others. () We obey Him in love () and this becomes the heart of making disciples – namely of whom – Christ.
We are not to be making disciples of ourselves, or Baptist tradition and theology, not even disciples of Christianity – but rather disciples of Christ for the glory of God in the reconciliation of His people to Himself. Tozer reminded us in his book "The Knowledge of the Holy" that there is no more important question for anyone to answer than what their view of God is. He then states that,
"Were all the problems of heaven and earth combined to confront us at once, they would pale in comparison to the problem of Who God Is and what we as moral beings are to do about Him." (paraphrased)
He finally states that based on these truths, our current view of God is best described as moral calamity.
So, I say, go back to the heart of the issue, which is God Himself.
The name "Jesus" means salvation
Is He not eternity (Eccles. 3)
and so on . . . infinitely so . . .
His love has been shed on us in His self-revelation, His Son and the Spirit that convicts, calls and bears witness to the Father and the Son. With so great a love, why would we not follow Him – all the way to the prize, which is Him.
What you get out of being a disciple of Christ, God the Son – is Christ . . . you get Christ, God the Son.
He is not just a means to an end – He is the Means and the End.
I once followed Tim Miller to be a better percussionist.
I once followed Bruce Raymond to learn the industry of Home Inspection.
I once followed Jimmy Wilson to grow in my knowledge and use of the Scriptures and the tool of hermeneutics.
I follow Christ, just to follow Christ. God IS the Gospel.
18 And Jesus came and said to them, "All authority in heaven and on earth has been given to me. 19 Go therefore and make disciples of all nations, baptizing them in the name of the Father and of the Son and of the Holy Spirit, 20 teaching them to observe all that I have commanded you. And behold, I am with you always, to the end of the age." (
8 Indeed, I count everything as loss because of the surpassing worth of knowing Christ Jesus my Lord. For his sake I have suffered the loss of all things and count them as rubbish, in order that I may gain Christ 9 and be found in him, not having a righteousness of my own that comes from the law, but that which comes through faith in Christ, the righteousness from God that depends on faith— 10 that I may know him and the power of his resurrection, and may share his sufferings, becoming like him in his death, 11 that by any means possible I may attain the resurrection from the dead.
12 Not that I have already obtained this or am already perfect, but I press on to make it my own, because Christ Jesus has made me his own. 13 Brothers, I do not consider that I have made it my own. But one thing I do: forgetting what lies behind and straining forward to what lies ahead, 14 I press on toward the goal for the prize of the upward call of God in Christ Jesus. (ESV)
28 And one of the scribes came up and heard them disputing with one another, and seeing that he answered them well, asked him, "Which commandment is the most important of all?" 29 Jesus answered, "The most important is, 'Hear, O Israel: The Lord our God, the Lord is one. 30 And you shall love the Lord your God with all your heart and with all your soul and with all your mind and with all your strength.' 31 The second is this: 'You shall love your neighbor as yourself.' There is no other commandment greater than these." 32 And the scribe said to him, "You are right, Teacher. You have truly said that he is one, and there is no other besides him. 33 And to love him with all the heart and with all the understanding and with all the strength, and to love one's neighbor as oneself, is much more than all whole burnt offerings and sacrifices." 34 And when Jesus saw that he answered wisely, he said to him, "You are not far from the kingdom of God." And after that no one dared to ask him any more questions. (ESV)
15 "If you love me, you will keep my commandments. (ESV)
6 Jesus said to him, "I am the way, and the truth, and the life. No one comes to the Father except through me. (ESV)
8 Anyone who does not love does not know God, because God is love. (ESV)
1:1 Paul, an apostle of Christ Jesus by the will of God, and Timothy our brother,
To the church of God that is at Corinth, with all the saints who are in the whole of Achaia:
2 Grace to you and peace from God our Father and the Lord Jesus Christ.
3 Blessed be the God and Father of our Lord Jesus Christ, the Father of mercies and God of all comfort, 4 who comforts us in all our affliction, so that we may be able to comfort those who are in any affliction, with the comfort with which we ourselves are comforted by God. 5 For as we share abundantly in Christ's sufferings, so through Christ we share abundantly in comfort too. 6 If we are afflicted, it is for your comfort and salvation; and if we are comforted, it is for your comfort, which you experience when you patiently endure the same sufferings that we suffer. 7 Our hope for you is unshaken, for we know that as you share in our sufferings, you will also share in our comfort.
8 For we do not want you to be ignorant, brothers, of the affliction we experienced in Asia. For we were so utterly burdened beyond our strength that we despaired of life itself. 9 Indeed, we felt that we had received the sentence of death. But that was to make us rely not on ourselves but on God who raises the dead. 10 He delivered us from such a deadly peril, and he will deliver us. On him we have set our hope that he will deliver us again. 11 You also must help us by prayer, so that many will give thanks on our behalf for the blessing granted us through the prayers of many.
12 For our boast is this, the testimony of our conscience, that we behaved in the world with simplicity and godly sincerity, not by earthly wisdom but by the grace of God, and supremely so toward you. 13 For we are not writing to you anything other than what you read and acknowledge and I hope you will fully acknowledge— 14 just as you did partially acknowledge us—that on the day of our Lord Jesus you will boast of us as we will boast of you.
15 Because I was sure of this, I wanted to come to you first, so that you might have a second experience of grace. 16 I wanted to visit you on my way to Macedonia, and to come back to you from Macedonia and have you send me on my way to Judea. 17 Was I vacillating when I wanted to do this? Do I make my plans according to the flesh, ready to say "Yes, yes" and "No, no" at the same time? 18 As surely as God is faithful, our word to you has not been Yes and No. 19 For the Son of God, Jesus Christ, whom we proclaimed among you, Silvanus and Timothy and I, was not Yes and No, but in him it is always Yes. 20 For all the promises of God find their Yes in him. That is why it is through him that we utter our Amen to God for his glory. 21 And it is God who establishes us with you in Christ, and has anointed us, 22 and who has also put his seal on us and given us his Spirit in our hearts as a guarantee.
23 But I call God to witness against me—it was to spare you that I refrained from coming again to Corinth. 24 Not that we lord it over your faith, but we work with you for your joy, for you stand firm in your faith. (ESV)
6 Jesus said to him, "I am the way, and the truth, and the life. No one comes to the Father except through me. (ESV)