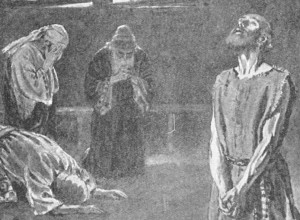 Two summers ago I heard Ray Pritchard, former Pastor of Oak Park Baptist(?) speak. He told us in his message that the mature believer doubts God.
In Job's plight, the text shows us how a man that God would call "blameless and upright" reacts to INTENSE suffering – "The LORD gives and the LORD takes away. Blessed be the name of the LORD." He had lost his children, wealth, support of his wife, health and comfort. He remained steadfast . . . for a while. (Job 30:16-31) Then Job makes a case. (Job 31)
It is good at this point to remember that if ANYONE would receive an accepted "doubt" from God, it would have been Job. After all, he was a man that God supported and showed confidence in. If the 'mature' should doubt God, here is the case where it would be seen.
After a brief reminder by Elihu about the Perfect LORD, God speaks to Job's doubts. He spends more than three chapters reminding Job that the 'one' who would speak with such demand of "rights" would surely have the power over creation – the mark of sovereignty. He is essence asks Job, "Boy, who do you think you are?!"
Really?!! After all God brought on Job at a point in his life when he had remained so faithful – God would say that he had no right to doubt what He was doing?!!
Really.
On a more salvific, ontological level, Paul writes in Romans 9:
What shall we say then? Is there injustice with God? Absolutely not!  For he says to Moses: "I will have mercy on whom I have mercy, and I will have compassion on whom I have compassion." So then, it does not depend on human desire or exertion, but on God who shows mercy.  For the scripture says to Pharaoh: "For this very purpose I have raised you up, that I may demonstrate my power in you, and that my name may be proclaimed in all the earth." So then, God has mercy on whom he chooses to have mercy, and he hardens whom he chooses to harden.
You will say to me then, "Why does he still find fault? For who has ever resisted his will?"  But who indeed are you – a mere human being – to talk back to God? Does what is molded say to the molder, "Why have you made me like this?" Has the potter no right to make from the same lump of clay one vessel for special use and another for ordinary use? But what if God, willing to demonstrate his wrath and to make known his power, has endured with much patience the object of wrath prepared for destruction? And what if he is willing to make known the wealth of his glory on the objects of mercy that he has prepared beforehand for glory –  even us, whom he has called, not only from the Jews but also from the Gentiles?  As he also says in Hosea:
"I will call those who were not my people, 'My people,' and I will call her who was unloved, 'My beloved.'"
"And in the very place where it was said to them, 'You are not my people,'
there they will be called 'sons of the living God.'"
And Isaiah cries out on behalf of Israel, "Though the number of the children of Israel are as the sand of the sea, only the remnant will be saved,  for the Lord will execute his sentence on the earth completely and quickly." Just as Isaiah predicted,
"If the Lord of armies had not left us descendants,
we would have become like Sodom,
and we would have resembled Gomorrah." (NET)
Again, Job says,
"I know that you can do all things;
no purpose of yours can be thwarted;
'Who is this who darkens counsel
without knowledge?'
But I have declared without understanding
things too wonderful for me to know.
'Pay attention, and I will speak;
I will question you, and you will answer me.'
I had heard of you by the hearing of the ear,
but now my eye has seen you.
and I repent in dust and ashes! (NET)
To doubt the One who is the source of every good and perfect gift (James 1:17) is both foolish and unsafe. Were He not working everything to Good, there would be NO GOOD. God is the only Rock, the only Foundation, the only stability and to doubt in Him is to unhinge reality and lose our only Good.
No, God IS Faithful and the only response to someone who advises people to doubt God is: despise yourself and repent in dust and ashes. That's what Job did, that is what maturity looks like.